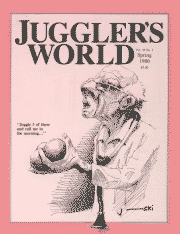 Juggler's World
Spring 1986
Vol. 38, No. 1
Table of Contents

Cover: drawing by George Niedzialkowski
---
Features
Sure it's physically healthy, but there's a lot of good going on inside your head as well!
As this living legend approaches fifty years in show business, he continues to make plans for the future.
This ardent juggler tells how theatrical skills were what really paid off in his increasingly successful career.
Fiction about an old trooper, notes on the mirror and very fertile soil in his garden.
Departments
Joe Cook, Epitome of One-Man Variety.
Definitely not a ghost story about a graveyard.

Karl-Heinz Ziethen and Andrew Allen.
Ziethen and Allen collaborate on a juggling art book you'll be proud to put on your coffee table.
Jack Wiley

If you haven't heard about the Hawaiian festival yet, this is must reading!
Virginia Beach, Virginia
Atlanta, Georgia
Schedules and contact information for upcoming festivals.

New affiliate leader plans publication for clubs.
Who's performing where.
Classified advertisements.
Simple Holdings, by Robert Hill Long
---
Juggler's World - Spring 1986 / Juggler's World Archive / jis@juggling.org © 1996 Juggling Information Service. All Rights Reserved.