Juggler's World: Vol. 39, No. 3
Teams Championship
---
Fewer Manics win more points
A trimmed down team of North Carolinians won the Team Championship with a clever personality skit, high-tech passing and creative takeaways.
Manic Expressions, trimmed down from five people in San Jose last year to three this year, found a combination of creativity and technique that impressed the judges and excited the crowd.
The opening curtain revealed them sitting on stage side by side, passing five balls under their legs and overhead in a simple circle. They waved goodbye to the balls that rolled off stage left and went right into eight club passing between Tommy Gabriel and Mark Lippard.
K.C. Canter joined the two for a nine and ten club feed, then the two men went back into their eight club pass. Each member of the group next got a turn in the middle of a six club shower, demonstrating a wide variety of original takeaway moves. The routine ended with a three person, 11 club feed and big applause from the audience.
Lippard said, "We knew we had something different. All the steals and takeaways were original stuff."
The trio worked methodically 2-5 hours a day for eight weeks to prepare the routine, listing tricks on a practice sheet and marking drops each time. Their win resulted in an appearance on "Good Morning America" and interest from other television shows.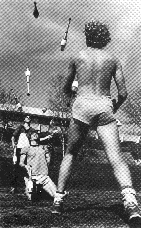 Manic Expressions practices at Appalachian State University - Rebel Bailey, Tommy Gabriel, and Wally Long
Lippard says the success has convinced them to try to make a go as full time professionals. Gabriel is a philosophy student at Appalachian State University and Canter recently graduated there with a major in physical education. Lippard quit a warehouse job in Lincolnton, N.C., about 18 months ago to pursue juggling full time.
The second place team for the second year in a row, the Raspyni Brothers, tipped their hats to Manic Expressions for a job well done. Daniel Holzman and Barry Friedman performed their usual mix of comedy and technical juggling. It included seven clubs back to back, passing with five clubs and a bounced ball, and ended with an eight club pass. "We don't consider coming in second as losing, but next year we're going to be unbeatable," said Holzman.
The Raspynis left Akron to open for David Brenner in Atlantic City. They also had scheduled appearances on the Tonight Show with Johnny Carson and as the opening act for comedian Robin Williams at Lake Tahoe, Calif.
Third place went to Double Trouble, the duo of identical twin brothers Nick and Alex Karvounis of Timonium, Md.
They began with synchronized club juggling and ended with six knife passing from Alex on the ground to Nick on a six foot unicycle. The brothers, 16 years old, have been passing for a year and doing parties and banquets in the Baltimore area. They considered the third place finish good for a first convention, but are already working on nine club passing for the '88 convention.
Other acts and highlights were:
Jongleur Jugglers (John Creveling, Michael Stillwell; Gainesville, FL) Synchronized three club tricks, six club passing with tricks, kickup to seven club passing with tricks, eight club passing.
Calculated Chaos (David Levesque, Robbie Weinstein; Portland, OR) Comedy skit with synchronized 3 balls, club passing up to 8 clubs, scarf passing, 8 rings passing.
Holy Smoke (Father Daniel Nealon, Robbie Dybo, Brian Stang, Paul Kuebler; Elyria, OH) Club passing patterns with a Christian theme.
---
Teams Championship Results
Barry Bakalor, Championships Director

                        Total  Tech.  Perf.  home town
 1. Manic Expressions   74.11  35.91  38.20  Boone, NC
 2. Raspyni Brothers    70.55  34.50  36.05  Van Nuys, CA
 3. Double Trouble      50.75  24.50  26.25  Timonium, MD
 4. Jongleur Jugglers   47.40  21.40  26.00  Gainesville, FL
 5. Calculated Chaos    39.00  16.30  22.70  Portland, OR
 6. Holy Smokes         29.95  12.20  17.75  Elyria, OH

Judges: Paul Bachman, Craig Barnes, Brian Dube, Michael Kass, Scott Meltzer, Todd Smith. Timing and scoring: Paul Belanger, Adam Levine.
---
Teams Championship / Index, Vol. 39, No. 3 / jis@juggling.org © 1996 Juggling Information Service. All Rights Reserved.