Interviews with Jugglers
Massimiliano Truzzi, May 1969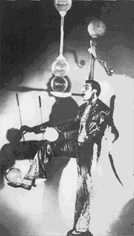 Listen to an interview with the great juggler Massimiliano Truzzi, conducted by his son Marcello on May 6th, 1969 in Ann Arbor, Michigan. Truzzi spends a fair amount of time talking about Rastelli, as well as discussing his own act, and other jugglers he likes. The interview is about 45 minutes long - there is a brief quiet period around the 30 minute mark where the tape is turned over. The interview is in Real Audio format. If you don't have a copy of Real Player you can get one here. Our thanks to Dr. Marcello Truzzi for making this recording available.
---
The Interviews page is maintained for the Juggling Information Service by Andrew Conway. Suggestions and submissions to conway@juggling.org.

© 1998 Juggling Information Service. All Rights Reserved.