Juggler's World: Vol. 38, No. 2
Festivals
---
Encounters along the road to the Amherst festival
by Kit Summers
Traveling across country recently from West Coast to East, I saw many great juggling acts I'd like to tell you about.
My first stop was Las Vegas, where I had the dual privilege of seeing David Lucas and Anthony Gatto. David was at the MGM Hotel and Casino, doing an act with polish and stage presence that will surely put him at the forefront of his profession.
He opened with three and then five clubs. He did eight rings for many throws before pulling them over his head, then a routine with four and five tennis rackets. He used billiard pockets on his hips to work down from seven to three balls. I saw a great combination trick where he spun rings on his leg and arm, spun a ball on his finger and juggled three rings in one hand. He ended the act with a wonderful three torch display.
David has learned to relax on stage and establish a rapport with the audience, especially through facial expressions.
After that show I saw Anthony Gatto perform. Smiles, smiles, smiles and so much audience appeal! This young man has learned not just to stand and juggle -- everyone knows he can do that superbly -- but involves himself in the feelings of the audience and acknowledges appreciation throughout his routine. He did a great three club routine, then balanced a coyote doll on his head and juggled seven rings that he caught on the coyote's arms and legs. With five clubs he balanced one of his forehead and juggled four, then dropped into a five club juggle. Finally he did under the leg throws and backcrosses using double flips.
It's always a pleasure to watch young artists mature, and I would advise all who can to take in Anthony's new show at the earliest opportunity. Nick Gatto and Albert Moreira, Anthony and David's fathers, used to do an act together under the name of Los Gattos Trio. All their skills have gone into the training of their respective sons, a trio (including David's brother, Albert Lucas) of the best jugglers of this generation.
I also visited Rejean St. Jules, who works at Circus Circus. Predictably in that setting, he builds his act around a circus theme. He opens with four and five clubs, then force bounces five balls off a drum. His bounces are thrown from the center, rather than the outside of the pattern -- an interesting and difficult variation on the norm. He ended with eight rings and a pulldown over his head.
With a wistful glance back, I left Las Vegas and went to Boulder, Colorado, to visit Airjazz. For those unfamiliar with the trio of Jon Held, Peter Davison and Kezia Tenenbaum, they are not a rock band, but a band of jugglers who assimilate dance into their show. Rumors are they are on their way to an off-Broadway show. They certainly have enough material for it!
From Boulder I whisked off to Chicago to witness a taping of "The Bozo Show" in which Andrew Head, the current IJA U.S. Nationals champion, performed. Andrew's character has developed quite a bit even since he won the championship in Atlanta. He seems to do every trick possible with one bowler hat. One remarkable move was letting the hat roll down his back to have it roll up again by itself!
In Cleveland I met with prop manufacturer Todd Smith, who showed me prototypes of his new model of club, the Elan line. Jugglers will be pleased, I'm sure, with the appearance of the Elans, and their good balance is superb for body throws.
On the east coast I visited Lottie Brunn at her home. We went to a shopping mall where she proved she's still one of the best women jugglers ever. She is so fast with three balls it's incredible, and her ball spinning is excellent. In that same show Ken Sherburne did clubs on a rolling globe, three tennis rackets, an axe, knife and torch, three and four clubs on a unicycle and finally axes on a nine-foot unicycle.
Next it was off to Amherst, Massachusetts, for the mini convention April 4-6. But it was more than a mini-convention -- more than 250 jugglers attended from as far away as Toronto, Canada and San Diego, California (me!). Carol Gagnon and Susan Kirby did a marvelous job of staging the event.
There were workshops throughout the day Saturday, including devil sticks by Paul Richmond and club passing with Holly Greeley, Richard Dingman and Waldo. Jim Neff and Alan Howard talked about advanced three ball juggling, and Richard Cyler headed a diabolo workshop. Sunday's workshops included myself on making money with your juggling, Karen Rothstein on club swinging and hat manipulation by Rich DiGiovanna.
There was a big public show Saturday night. Dickens the clown did diabolo moves, followed by Susan Kirby and Mark Kloch, the Crab Trap Jugglers. They did a great box routine in which Susan played the straight woman to Mark's comedy. The Dexterity Brothers followed by juggling a plunger, chicken and bucket of water, as well as knocking a banana out of a volunteer's mouth.
After a drawing for props donated by various manufacturers, Larry Vee entertained the audience. When he juggled four tennis balls and two basketballs simultaneously, the crowd went crazy. Next I took the stage to do a club swinging routine using machetes and a lot of comedy. Alan Howard concluded the show with some great juggling.
Notable things I saw on the gym floor included Greg Moss's unique club pass, which is better described as a "launch." It starts like a shoulder throw, but instead of spinning the club to his partner, he launches it flat from behind his back by pushing on the knob with his open hand.
Alan Howard kicked up a devil stick to a balance. Fred Strempl assumed his usual position behind a soccer net against the wall to contain his seven ball practice. For a nice topping on the weekend, Mother Nature provided jugglers with a two-inch snowfall Saturday night.
The overall atmosphere was informal and spontaneous. Everyone left looking forward to San Jose this summer!
---
Texans hold first festival
by Rodney Barton & Mickey Cecil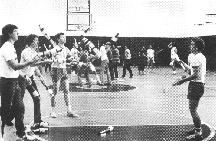 A Denton festival feed. (l-r) Barry Tipping, Mica Calfee and David Hares to Brian Shaffer (Barbara Cecil photo)
It all started innocently. Two young but active clubs in north Texas, the Dallas Anti-Gravity Circus and the Denton Jugglers Assn. never got together because their meetings were each held Wednesday nights.
The Denton Club decided to invite Dallas to juggle on Sunday, March 2, Texas's 150th birthday. The rest went something like this:
"Let's print some fliers with a map and phone numbers."
"We could put them up around town and on campus."
"Then we'll have to call it something."
"How about the North Texas Jugglers Festival? We could invite other IJA members in Texas, and what about Oklahoma?"
Soon a group of novice jugglers who had never even been to a juggling festival had organized one. With help from Audrey Bernecker from Dallas, we distributed fliers and made telephone calls. Then we waited.
On the big day, jugglers were waiting in the parking lot when we opened the gym at North Lakes Recreation Center. And they continued to arrive from as far away as Oklahoma City and Austin. More than 60 jugglers and 30 spectators eventually filled the gym.
We all performed our best tricks, but the Oklahomans stole the show. Bill Williams and Jim Howell of Magic Motion demonstrated their skills with ball and plate spinning and mixed object juggling. Karen and Paul Phariss and Kevin Holman of Circus Movement were the star numbers jugglers, passing 11 clubs between them and 8 and 9 clubs between two people. Kevin also juggled the most objects, seven rings.
Other highlights included a four person, 14 club line, a circle feed with three feeders and lots of feedees, and some rounds of combat. Mike Rahl showed us devil sticking, while Sherbert the Clown and Chester the Jester provided lots of laughs. Youngest club passers were Eric Parkey and Andy Rie, age 12. Andy juggled the most unusual props -- plastic vegetables and potato chip cans!
The fun continued well past our allotted time, so everyone moved outdoors where Mica Calfee supervised torch juggling dressed in full fire-fighting gear. There was also a joggling relay race and a line of devil sticks that grew to six people passing five sticks.
Our festival was a hit, thanks to all those who came to juggle and to the Denton Parks and Recreation Department. Afterwards the talk went like this:
"They want us to do it again!"
"Should we try for fall, or next spring?"
"We ought to have some workshops..."
"And a public show!"
"You know, someone in this area should host an IJA convention..."
---
Rochester rocks again
by Colleen Healy

"The Wild Bunch" - RIT festival goers
On April 19-20, the Ninth Annual Spring Juggle-In was held at Rochester Institute of Technology in Rochester, New York. More than 200 people came from Ohio, Connecticut, Vermont, Pennsylvania and New Hampshire to join the festivities. One RIT alumnus made the trip all the way from Kansas City!
Numerous workshops were held throughout the day. Guests saw an impressive three ball tricks demonstration from Alan Howard and Jim Neff. Dan Foley, Joel Harris, Mary Bertone, Steve Johnson, John Nicowski and Frank Citino talked about club passing. Foley and Harris performed 7 clubs back-to-back and Foley, Harris and Citino did 11 and 12 club feeds.
Howard and Bill Dietrich showed off their numbers prowess with juggles of five clubs, seven rings and seven balls. Neff kept the crowd amused with comedy juggling throughout the day.
Festival organizer Greg Moss said the Juggle-In met all his expectations. His single disappointment was that prop makers did not come to show their wares. Several did send prizes for a raffle, however.
---
No fooling Isla Vista jugglers
by Ada Spade

Double-deck passing at the Isla Vista festival. Kathy Howlett above Bob Mendelsohn to John Gilkey above Dave Williams. (Sheila Fox photo)
Juggle-mania hit Isla Vista, California, April 4-6. The 10th annual April Fools Jugglers Festival, hosted by the Stromboli family, gathered old friends at Robertson Gym on the U.C. Santa Barbara campus for a weekend of fun.
The Isla Vista festival is the oldest organized, continuous juggling gathering in the country besides the IJA convention. Proceeds from the Public Show were donated to the Santa Barbara Rape Crisis Center by festival organizers, the Stromboli Family.
Saturday found jugglers in Isla Vista's Anisq' Oyo Park, a place familiar to those who attended the 1982 IJA convention. Along with team juggling and club passing, people were unicycling, stilt walking, cracking bull whips, tossing Frisbees and kicking footbags. Ray Smith's 10 pound bowling balls, all four of them, attracted a lot of attention. Dave Williams and friends practiced two person high juggling. Club patterns involved as many as seven people.
When the weather got damp about noon, everyone headed back to the gym for more practice and play before the evening's Western Regional IJA Championship and Public Show.
Barry Bakalor directed the championship, with Cliff and Mary Spenger of Full Moon Circus acting as masters of ceremonies. The performances of nine championship competitors were interspersed with variety, comedy and other acts.
The junior championships drew three entrants. Robbie Weinstein took first place with a polished performance he has perfected over the last couple of years. Mark Bakalor and Owen Canfield were first-time competitors.
The Regional U.S. Nationals event prompted some dazzling performances by six competitors. Larry Merlo won first place with a routine that included his trademark ring spinning and a grand finale back flip. John Gilkey thrilled the crowd with high club tosses and quick-switch costume changes. Ray Smith awed viewers with his heavyweight juggling, including an original idea for bounce juggling bowling balls! Dan Menendez tried a promising black light routine, and David Deeble and Stefan Fisher rounded out the field.
The evening included a smorgasbord of other acts. Susie Shireman and Craig Barnes tap danced. Bob Whitcomb did ball balancing on a mouthstick. Ace Miles changed the pace of things with a suspenseful straight jacket escape. The Strombolis and friends also performed several times. Full Moon Circus were superb in many short routines between acts to allow time for performers to prepare. Besides juggling, they did a tightrope act, handstands, whip cracking, acrobatics and dog routines with their pooch Gypsy.
After the show, many jugglers returned to the gym for another late night of juggling fun. Sunday saw everyone gathered at the park for a half-day juggle and final goodbye. From an action-packed weekend, they returned home pleasantly exhausted.
IJA Western Regionals
Scoring Totals
Seniors

                       Total   Tech.   Perf.
1.  Larry Merlo        68.17   25.83   42.33
2.  John Gilkey        68.08   27.42   40.67
3.  Daniel Menendez    63.35   26.77   36.58
4.  David Deeble       54.00   20.50   34.00 *
5.  Ray Smith          44.17   21.33   23.33 *
6.  Stefan Fisher      32.92   14.33   19.08 *

* 1/2 pt. penalty - under time
Juniors

                       Total   Tech.   Perf.
1.  Robbie Weinstein   68.50   28.82   39.67
2.  Mark Bakalor       49.33    8.00   41.33
3.  Oran Canfield      42.63   15.05   27.58

Judges - Michael Kass (1980 US Nationals Champ), Ben Decker (1978 Juniors champion), Ken Falk (1985 Juniors champion), Craig Barnes, Bob Mendelsohn.
---
Hill qualifies for Nationals from Midwest regionals

Westerville, Ohio's, Jest Jugglers in full uniform
The Rubber City Jugglers attracted 107 people to the Memorial Day Madness festival and the IJA Midwestern Regional championship May 24-25.
Benji Hill of Thomasville, N.C., won the championship with a strong display of five club backcrosses, thereby gaining a berth as one of ten finalists in the U.S. Nationals in San Jose. Hill, winner of last summer's IJA Teams Championship with Dana Tison, also included a variety of moves with three clubs and flashy bouncing of four silicone balls. John Palmstrom of Kent, Ohio, finished second with a routine that included bouncing a ball on his head while jumping rope. Third place juggler Bob Whitcomb from Columbus, Ohio, did three clubs on a free-standing ladder as well as up to five clubs.
Monetary prizes of $100, $50, and $25 went to the top three places, along with custom trophies topped by three miniature clubs and a clock. The Sunday afternoon show drew a disappointing crowd to St. Vincent High School auditorium, but those in attendance were glad they came.
Appropriate to Memorial Day, the Canton Brass Ensemble started the championship with a moving rendition of "Battle Hymn of the Republic."
Emcee Barrett Dorko of the Rubber City Jugglers next introduced Andrew Head, the 1985 IJA U.S. Nationals champion. Head performed a non-competitive skit about baseball that began by kicking three balls up from a unique bat-shaped prop. He concluded with the expert hat manipulations that have won him wide acclaim. As current U.S. Nationals champion, Head automatically qualifies for this summer's finals.
On Saturday jugglers enjoyed workshops by Tommy Gabriel and Hill on numbers juggling, David Cain on cigar boxes and devil sticks, John Palmstrom on nested cups and ball spinning, and Dorko on Mills Mess the easy way. Festival organizer Kevin Delagrange led IJA officers on a tour of the University of Akron, site of the 1987 IJA convention. Delagrange will chair that effort next July 15-22. A Saturday night party climaxed in an oatmeal box stack balance relay race.
IJA Midwest Regionals
Scoring Totals

                       Total   Tech.   Perf.
1.  Benji Hill         78.7    34.7    44.0
2.  John Palmstrom     60.8    26.3    34.5
3.  Bob Whitcomb       60.3    25.3    35.0
4.  Debby Goetschi     55.8    24.0    31.8
5.  Tommy Gabriel      52.7    22.0    30.7
6.  David Cain         38.5    15.2    23.8 *

* 1/2 pt time penalty

Judges: Todd Smith, Terry Butler, Joe Sullivan
---
Schedule of upcoming festivals
June 24-28
Durham, New Hampshire

The University of New Hampshire will host the first New Hampshire Mime Festival on the Durham Campus. The five day event includes a wide range of classes, workshops, seminars and public performances with guest artists from throughout the nation. For more information, contact Tom Scharff, c/o Theater Dept., UNH, Durham, NH 03824. Call 603/862-2291.

July 25-27
Montpellier, Vermont

The Third Annual Vermont Fool's Fest is a unique gathering of almost every kind of comic performer imaginable. Includes Parade of Fools, carnival rides, learn to juggle area, fireworks, street dance, etc. Contact Montpellier on the Move, Box 1085. Dept. N, Montpellier, VT 05602. Call 802/229-4943.

September 20-21
Philadelphia, Pennsylvania

The Fourth Annual Jugglers Jubilee will feature workshops and a public show. Jugglers are encouraged to set up an information booth at no cost to publicize their skills and promote bookings. Location is Plaisted Hall, #1 Boathouse Row, Kelly Drive. Contact Sid Ozer, Fairmount Park Commission, Memorial Hall, West Park, Philadelphia, PA 19131. Call 215/686-0053.
---
Festivals / Index, Vol. 38, No. 2 / jis@juggling.org © 1996 Juggling Information Service. All Rights Reserved.