Juggler's World: Vol. 38, No. 4
Donnia Ray Smith
Ray working hard with 5 bowling balls. (Orrel Lanter photo)
The bowling balls circle in a cascade 10 feet overhead. So awed is the crowd surrounding him that he has to remind them that this would be a good time to applaud.
---
The Great Heavyweight Juggler
by Orrel Lanter
From his pile of things on the San Francisco street Donnia Ray Smith takes a wide silver weight lifting belt and buckles it around his ample girth. To it he attaches a 40-foot chain that has been hooked to cable car number 22. Clenched in his hands he holds three 10-pound bowling balls.
As he leans back against the belt the cable car begins to inch forward. He picks up his pace and it follows reluctantly. The bowling balls circle in a cascade 10 feet overhead. So awed is the crowd surrounding him that he has to remind them that this would be a good time to applaud. They roar appreciatively until the next cable car arrives to carry them away from his outdoor stage.
Donnia removes the belt and slowly mops his forehead. At 5 feet, 11 inches and 225 pounds, he is a large man. His hands are so big they can palm a basketball. Tight crinkly hair frizzes around his head, narrowing into two conical points at the sides. A white grin punctuates his wide brown face, radiating a gentleness that is kept hidden most of the time.
"Just remember, the more you give the more I have. I'm ugly, but I'm friendly... and I could have been your son!" he quips with the next crowd gathering for a cable car at the Bay and Taylor turnaround in San Francisco. For the past two years this informal, open-air stage just above Fisherman's Wharf has been his performing turf.
Grabbing three torches and getting a light from a visiting Japanese tourist, he does single, double and triple spins, then pops one up to a balance on his broad nose. "You don't see that at Sea World," he chuckles. Shrugging his neck, the torch drops to his hand. "This is China Town juggling," he says to accompany a round of chops. The crowd giggles. "Wanna see me juggle on the unicycle?" he says, and runs over to where it is resting on the pavement and jumps on the rim. "The Grin" splits his face. Hoots from the crowd and the next cable car rumbles down the hill, momentarily halting the show.
Ray flashes the grin for the cable car crowd. (Orrel Lanter photo)
But Ray, the Heavyweight Juggler, sees time passing too quickly as he works the street. He's ready for something better. He wants to make that name for himself. Perhaps commercials for some big company. Perhaps Ford could work this heavyweight juggle into an ad, or Toyota.
He has a dream of having a bowling ball shot from a cannon where he would catch it on his neck. Hear that, Brunswick! A couple of good contracts like that would get him the exposure he needs to take his act to Vegas. He has been balancing barbells on his head with that future in mind. He wanted badly to win an IJA championship to boost his reputation, but never got far in two attempts. Still, Ray has shown considerable determination to arrive at his present situation, and one suspects that same gumption will carry him further toward his dreams.
At 28, Smith is no ingenue to the streets. Born on Chicago's South Side, he was orphaned at 7 when both parents and two brothers died in a fire. Until the age of 13 "Auntie Pearl" was able to make a place for him in her home. But times were tough. Always. He was sent to Salem, Oregon, and placed in a foster home that already had 10 other kids. "Sister Clark was a good woman, very religious, always tellin' me I could be something. But it takes a lot to get noticed with such a bunch always clamoring for attention."
So at 15 he split back to Chicago and another foster family, the Benjamins, opened their doors to him.
Sweeping floors and washing dishes were about the only straight ways of making a living open to a boy his age. It was a poor neighborhood. It sure wasn't what he wanted to do. On a street corner one day he watched a magician perform. Fascinated, he started hanging out at the Magic Center, under the El tracks, at Wabash and Randolph. Screwing up his nerve, he approached Lee Wade, the owner, offering to sweep floors, wipe counters, whatever, in return for lessons. Wade gave him a job. For six months Smith observed closely and practiced. "Boy did I practice, 4 to 5 hours a day until I could perform smoothly, naturally. After a while I got good enough to try and sell tricks to kids. Hell, here I was just a kid myself.
I'd put on a show, get 'em real excited and then say, 'If you wanna learn this trick you gotta pay for it first. Then I'll show you how it's done.' They'd usually come back moanin' the next day. 'Hey, that trick don't work, gimme my money back.' 'Now,' I'd say, "here's the real trick. You gotta practice. It's gonna take time and it's not gonna be easy.'"
And life mimicking art, things have been pretty much the same for Smith.
He took to the streets setting up a little table in the subway at Washington and Randolph. People whizzing by at rush hour would pause for that fraction of time it took him to hook them in with his tricks. One eye remained peeled for the subway police who were no more kindly to the hustle then than they are now. One day, returning home, he found his room robbed and his magic equipment smashed. "Never did feel good about that city after that," he muses.
With determination, he stayed in high school while friends dropped out. He graduated -- quite an accomplishment in his neighborhood. Not only that, but he "up and moved hisself" back to Salem to enroll in Chemeketa Community College. For two years he worked hard to break free from the world he'd grown up in. He wore a suit and tie to classes and paid expenses by performing magic. He studied hard and in 1982 received an associate arts degree in criminal justice.
During all that solid career planning, performing remained his greatest pleasure. He wanted to test that part of himself to see if he had the skill to make it in show business. Besides, the button-down shirt and tie were beginning to chafe his neck.
San Francisco's Fisherman's Wharf had often been mentioned often as a place where street performers had the best chance. So he packed up and moved to the City Beside the Bay. Jefferson Street, in front of the Anchorage, became the theatre for his magic and balloon act. He'd survived the first step.
One Sunday while exploring Golden Gate Park, he happened upon a little meadow with a lot of jugglers. Robert Nelson, the incorrigible "Butterfly Man," was performing hat tricks and ball routines. "Can you teach me that?" Nelson sent him home with a primitive 3 ball cascade. He practiced. Next Sunday he returned doing 5. Within 3 months he was doing 7. The bug had bit.
In 1983, at 24 years old and juggling less than a year, this ghetto kid entered the Juniors competition at the IJA convention in Purchase, N.Y. From street directly to stage he went. Five clubs and seven balls he gave them. He stood splay-footed on a basketball, juggled three machetes and balanced a basketball on a cylinder on his head at the same time. Then, with the rudimentary beginnings of what was to become his trademark, he tossed up three 16-pound lead shotputs into the air (that's 48 -- feel 'em -- 48 pounds!) and juggled them for ten throws.
Ray Smith with a trademark trick. (Orrel Lanter photo)
The audience ate it up. The judges gave him 6th place. Stardom was obviously going to be coy. The act was not going to make it on raw talent alone. It needed a bit of polish if he was going to be able to take it off the streets. If he was going to become the first black man to win the U.S. Nationals.
So... what could he do to make himself unique, to make himself stand way far out from a whole lot of very slick performers. "For sure I wasn't lean and mean. My words lacked class. But I'd seen those acts down at the wharf and they all seemed so much of the same. Same balls, same clubs, same stale jokes."
Waiting for the Polk Street Muni bus one night, nature called. He left his gear stashed in two bags and leaning against the bus stop sign. The only thing left when he returned a few minutes later was one bag containing three bowling balls. "It was just too damn heavy to run with."
With that limited material his act, of necessity, took a new direction. He would be a heavyweight juggler.
At the Sports Palace on 18th and Valencia, those with a dream train for the Olympic gold. Smith was following his own dream. Resting 225 pounds deliberately on his neck, he did ten sets of squats. Shoulder presses with 135 lbs. followed. Bit by bit he built himself up to the point where he could catch a bowling ball on the back of his neck and flip it back into a juggle.
The crowds at the turnaround loved it. Tips soared. He added a foot catch. This idea came about when people in the crowd would holler, "watch out for your foot." Back to Golden Gate Park juggler's college he went. There he studied the incredible foot juggling moves of Michael Kass. He learned foot catches and kickups with clubs. But he could do the same thing with a bowling ball. His shins took a beating, but within the month he perfected it with both feet.
With his ever-increasing tip money he bought a unicycle and practiced riding it around the bleachers at Moscone Park. When he could rock in place he added a three bowling ball cascade. The act was finally falling into place. It now consisted of juggling three torches while riding the unicycle and throwing them under his legs while rocking in place. Then a three bowling ball cascade on the uni. Next, jump off the uni, do a bowling ball shower. Add a pirouette and shot-put those balls straight up overhead, say about ten feet, oooofff! Bring them down nice and smoothly and after a couple of rounds pass one behind a shoulder. Catch another on the left foot, kick it back up. Add a fourth bowling ball, do columns, do a cascade. Watch Ray blow the crowd away. Practice five in private for a few friends and prepare to pave the path to glory. Yeah!
The open road called. He was curious to see what other street performers around the country were up to. Greenwich Village was fun for a while, and so was Harvard Square in Boston. From there he headed to old memories in the "Second City" and juggled for a week in front of the Playboy Club. Then it was on to Oregon and the Portland Rose Festival, and the Seattle Pie Place Market. The months passed and he ended up back in "Fog City."
1984. George Orwell fell a little flat, but the cable cars made a comeback. Bay and Taylor was undisputedly his. The streets were so good to him that year he got an apartment off Diamond Heights, bought himself a Ford van and set in a supply of costumes with enough sparkle to make him shine. The IJA Las Vegas convention was right around the corner and he wanted it bad. It would enhance his reputation and make that long climb to the top just a little easier.
He taught his girlfriend Mary to juggle 3 clubs, 5 balls and ride the unicycle while passing with him. They were preparing for stardom. She and a good friend helped him choreograph a routine to Michael Jackson's "Thriller" tape. He bought a new tux, new clubs, new silver balls. He wanted to glow out there on that stage. This was going to be his ticket off the streets. The preliminary competition screening for judges only took ten minutes. He gave it his best shot. The judges decided he didn't make it into the finals.
Ray gathered his things and left immediately for San Francisco to take time off, lick his wounds and think about the future. He and Mary split up. The stress of going for broke KO'd the relationship. She's using her juggling routine in her strip act in one of the North Beach joints.
"That competition was a tough experience," he said. "My first reaction was to be real pissed off. I thought maybe, just maybe, there's a color issue here. I mean, you don't walk around in this skin all your life without it occasionally crossing your mind. After all, there's at most, only a handful of black jugglers in this entire scene. They've got very little exposure to it."
He speaks intensely, "I was real bummed. I thought about it for a long time after that, and I wanna believe now that I just needed to sandpaper the rough edges." A slight stutter surfaces as his words race ahead of him. "So, where do I go from here?"
The streets have taught him survival and given him a large measure of self confidence and a way to test himself within the larger culture. But time is passing. He's ready for something better. He wants to make that name for himself.
The Oakland Coliseum held auditions for half-time entertainment for the Warriors games. He wowed them juggling four basketballs while riding his unicycle around the court and shooting trick shots. "Hey, I had no problem getting that job. People are used to seeing blacks with basketballs. They think we're all related to the Harlem Globetrotters!" They signed him up to do 12 games this season.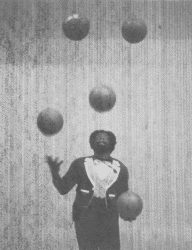 Ray juggles 5 basketballs. (Sheila Fox photo)
In January he scheduled a three week gig at Caesar's Palace in Las Vegas. And he has been working with a black acrobat friend named Zeetaw from Boulder, Co. They are polishing an act they hope to enter in the Circus World Championships at Monte Carlo next year. He still wants to be the Jackie Robinson or Bill Cosby of juggling, the first black man to win an IJA championship.
Perhaps then some big company would hire him for commercials. Ford or Toyota could film him pulling one of their trucks. Or how about a bowling ball shot from a cannon and landing on the back of his neck. Hear that, Brunswick!? He believes that a couple of good contracts like that would give him the exposure he needs to get his act to Las Vegas full-time.
He stops to work the crowd before they board the cable car for its run up the hill. "Hey Ray," one of the drivers yells out. "How's that new Mercedes of yours running?" He cracks up. The crowd laughs good naturedly. Lots of dollar bills flutter down into the hat this round. He's given them a great show and they know it.
---
Donnia Ray Smith / Index, Vol. 38, No. 4 / jis@juggling.org © 1996 Juggling Information Service. All Rights Reserved.