Juggler's World: Vol. 39, No. 4
Notes
---
Dick Franco and Brian Dube have teamed up to contribute to the world of juggling knowledge. Dube has published a Franco book (reviewed in this issue), and plans to release a videotape on the life story of Franco's mentor, Bobby May. Produced by Stuart Lippe, the film includes rare footage. One old Vitafone film Franco recovered shows May playing a soda jerk who ends up juggling for his customers. There's also an old interview with May and a video tour through the May photo collection. Franco was playing the Atlantis Hotel in Atlantic City this fall.
John Mallery has juggled at renaissance festivals in Michigan, Kansas City and Largo, Fla., recently. He is currently working in Kansas City on a local cable television program that will highlight the talents of variety artists. Noted guests so far have included juggler Bryan Wendling and physical comedians, The Abbotts of Unreason.
Ron Severini, special projects manager with Ringling Brothers, invites jugglers to contact him concerning work in commercials and festivals. Send your resume and a video to him c/o Ringling Brothers, 222 S. Westmonte Dr., Suite 212, Altamonte Springs, FL 32714. Call 800-824-5243.
Kris Kremo celebrated his 10th year of work at the Stardust Hotel in Las Vegas by taking a six-week vacation. He began working there Dec. 23, 1977, and continues to this day. Part of his vacation was spent in Berlin, where he juggled in a big annual holiday show, "Menschen-Tiere-Sensationen." He has added a new wrinkle to his cigar box manipulation this year - actually toss juggling the boxes in four different ball patterns. He said, "It doesn't impress the audience, but it impresses me. They're awkward and it's pretty hard!" Kremo, a fourth generation performer, will play a part in a documentary movie on circus families to be shot in Europe this year. A private circus collector has also compiled a Kremo memorabilia collection for exhibit in Zurich's Kunsthalle this spring.
"Juggling is catching" in Ontario, says Franklin Hargraves. "Juggleknots," as he bills his act, will be teaching a two-day course to summer program supervisors later this year so they can pass it on through recreational programs in their own communities.
Joey and Robyn Jordan announce the birth of twin baby jugglers - Joseph Jr. and Christopher -- on Oct. 7, 1987. "They're not passing clubs yet, but they're as long as one," says the proud father. Dad also proudly reports he is able to do seven flying discs in one hand now!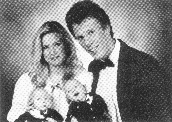 Kevin Wenzel of Irving, Tex., took his juggling on stage. He was featured with the Dallas Opera in its production last spring of "A Turk in Italy." Wenzel has been juggling professionally for four years, and meets with the Denton, Tex., club.
Albert Lucas joggled his second marathon on Nov. 1 in New York City. His time of 3:58.43 was slightly better than his first attempt, but he said the thick crowd of 23,000 runners was a severe hindrance. His effort was chronicled by ABC Sports several times in their telecast of the event, including an "up close and personal" segment. Lucas planned to juggle on ice skates in Garmish, W. Germany, after Christmas in a fund-raising performance for the American and W. German Olympic ice skating teams. He said he would then return to Williamsburg, Va., to practice more joggling and numbers juggling. He hopes to set Guinness records for juggling 11 balls, 9 clubs and 14 rings this year.
Young Mark Bakalor has taped an egg juggling commercial to advertise a new Milton Bradley toy named "Dr. Wacko." Bakalor's four egg juggle will be speeded up in editing to look like a dozen or more. The spot will air nationally beginning in February.
Anthony Gatto, who continues his year-long appearance at Ballys in Las Vegas, continues to improve his formidable skills. He can maintain impressive runs with nine balls and nine rings, and hopes to do a 10 ball juggle by next summer's Denver convention. Gatto's 7 ball routine now includes a long overhead cascade, a full pirouette, under the leg and behind the back throws. He also tosses three clubs high behind the back out of his five club cascade, pirouettes with two in his hands and resumes the five cascade.
Larry Jordan of Kissimmee, Fla., and Bill Fry claim to have achieved a "first" by untying a volunteer's bikini top by passing clubs around her. They've named the stunt "The Six Club Strip." Fry left town quickly thereafter to work for three months on a Hawaiian-American Cruise Lines ship.
Kit Summers appeared on "Hour Magazine" in September with Peter Scolari and host Gary Collins. On Oct. 24 Summers was married to Mary Ellen King, a woman he met in San Diego's Balboa Park at a juggling party!
Wally Eastwood, billing himself as "the fastest juggler on earth," is performing his fast-paced stage act in Reno, Nev., at the Bally Hotel's "Hello Hollywood Hello" show until April 19.
Several comedy jugglers, including The Raspyni Brothers, Edward Jackman, Marty Polio, Daniel Rosen, Frank Olivier and Robert Gruenberg were taped for segments of "George Schlatter's Comedy Club" television show. Also appearing will be stand-up comedians and variety artists like 1986 convention public show magician Pat Hazell. The segments are being aired nationwide this winter on some NBC stations.
The Raspyni Brothers have produced a 30 minute how to juggle videotape called "It's a Juggle Out There." The comedy tape just teaches the three ball cascade, and will be marketed to video stores nationwide.
Jackman had another televised appearance on the Showtime network's "Comedy Club Network." He did several Los Angeles-area television shows and performed at "At My Place" in Santa Monica, Calif., with Michael Ruff. The Flying Karamazov Brothers are back on the road following an extended run of "A Comedy of Errors," with Avner Eisenberg at Lincoln Center's Vivian Beaumont Theatre. The show was broadcast live all over the country in June over the Public Broadcasting System.
They made the airwaves again in November on the "Dolly" variety show. Their finale was passing torches around the host as she sang "Great Balls of Fire." They toured colleges and civic theatres in the fall, then opened a new show Jan. 9 in Seattle, close to their new home base. They will run a repertory of three shows simultaneously through March 26 there at ACT. A Repertory Theatre. Those will be the old standby shows "Juggle & Hyde" and "Cheap Theatricks," as well as some brand new material tentatively packaged under the title of "The Cabinet of Dr. Karamazov."
"The Cabinet" includes an extension of musical juggling with the addition of electronic melodies. It also features "Jazz 3," the latest update of the Karamazov's anarchic point-passing routine. "It's called 'pointless jazz' because there's no pattern. You can pass from anywhere you want," explained Howard Patterson.
The Karamazovs are also producing a film of "Juggle and Hyde" themselves, while talking to at least two major networks about Film and variety show projects. Newsweek magazine carried an article on them in November, correctly but tardily noting that the Karamazovs have proven that "juggling can indeed be mainstream entertainment."
Three IJA members, Stefan Fisher, David Barnes and Mark Somerville, were seen juggling in a recent episode of the television show, "Falcon Crest." Fisher has signed a contract with Roberts Brothers Circus for a 30 week tour beginning in April. He performs "Four, Fabulous, Flaming, Fire torches" as well as magic, unicycling and wire walking.
The American Dream, Scotty Meltzer and John Park, won a performing trip to Hong Kong in the fall during a Cannery street performers contest. The San Francisco-based duo was to travel with the San Francisco Symphony, the mayor and an Evening Magazine television crew. Other recent activities included performances in Saudi Arabia and aboard a cruise ship to Mexico.
The Philippine Pride Jugglers have conducted a heavy schedule of shows in schools throughout the state of Washington since September. Joyce Bonachita, Irlo Macapinguil, Emily Cafino and Regina Tayko perform an assembly routine that incorporates Philippine music, costume and dance with tricks like passing between two-high shoulder stands and a 14-club box pattern. They then talk to social studies classes about their lives growing up in the small, rural Philippine village of Cabangahan. They are in this country on a one-year work visa.
The short-lived team of Calculated Chaos (David Levesque and Robbie Weinstein) is splitting after an amiable six months together. Weinstein is returning to college and juggling in Albuquerque, N.M., while Levesque remains in Portland. Ore. Levesque's act incorporates many non-standard props in routines such as his seven scarf juggle and the "Mad Eyeballs."
The Jongleur Jugglers of Gainesville, Fla., performed as part of a variety show for an audience of 5,000 people at the Special Olympics in South Bend, Ind., last summer. An impromptu show in the Atlanta airport on their trip home during a long wait for a delayed plane earned them first-class upgrades from the airline! The Jongleurs also do weekend shows at the new Jacksonville Landing shopping and dining development in Jacksonville, Fla. The Rausch Company project features street performers and is modeled after the company's other successful developments, Baltimore's Harborplace and Boston's Faneuil Hall.
Manic Expressions has performed at halftimes of two NBA basketball games this winter in Cleveland, Ohio, and Washington, D.C. While they continue to seek out group work, Mark Lippard, K.C. Canter and Tommy Gabriel are making individual plans for their futures.
Susan Kirby has defected from Baltimore, Md., to Ottawa, Ontario, Canada, where she is working in partnership with David Aiken and performing solo. Future plans include travel to the Groundhog Festival in Atlanta and the Amherst Mini-Convention in April. Susan is also creating a show with comedian Joe Murray with an eye on traveling to Japan.
Waldo & Woodhead, Miz Tilly Green and Mark Richardson enjoyed performing back-to-back in Osaka, Japan, in October. The street work was strenuous and challenging, the hats generous and the hospitality excellent. To relax after a long day of juggling, they enjoyed Japanese massages and Osaka's splendiferous video game parlors.
How about you? Send your "Noteworthy" juggling news tips to Juggler's World, or call them in to 704-892-1296.
---
Notes / Index, Vol. 39, No. 4 / jis@juggling.org © 1996 Juggling Information Service. All Rights Reserved.